What's the best tile cutter
The best tile cutters for DIY tiling
Most tiling projects require some kind of tile cutter. Whether you're creating a beautiful herringbone pattern which requires accurate angles and cutting lines or need to trim the tile edges for a fireplace surround, having the right tools will make your life a whole lot easier.
But what are the best tile cutters for DIY tilers? Well, this all depends on the material from which your tiles are made, the size of the area you're tiling and whether you need your tile cutter to be easily portable or not.
There are two main types of tile cutter on the market – manual and electric. Both can be used for DIY projects, but it's important to assess their respective strengths and weaknesses in order to make the right decision. Read on for everything you need to know about tile cutters.
Choosing the best tile cutter
Tiles are made from many different materials including ceramic, porcelain, glass, cement, marble and granite. They're also available in many different thicknesses, so it's really important to match the tile cutter to the tiles you're working with.
The type of blade a cutter uses will help to determine whether it's right for your project. For example, a weak blade will not cut through a thick slab of granite.
Instead, your saw should have a durable diamond blade. Check out the tile types below and the cutters that are most suitable to use for these particular materials.
Ceramic tile cutters
Ceramic tiles are durable, practical and long-lasting making them a popular choice for the home. They come in hundreds of different colours, patterns and styles, but what type of cutter should you use?
Manual tile cutters are perfect, allowing you to make straight or diagonal cuts on both small and medium-sized tiles.
Porcelain tile cutters
Rail cutters, sometimes referred to as 'score and snap' cutters, are perfect for porcelain up to 20mm thick. Cuts can be made by scoring the surface of the tile and then applying pressure to break the tile along the scored line.
This method should not be used on natural stone as achieving a clean break is very unlikely due to the stone's often uneven composition. Rail cutters are perfect for straight lines, but if you want to cut out intricate details or shapes, you'll need an electric cutter with a wet diamond blade.
Glass tile cutters
Glass tiles look beautiful, offering a striking reflective surface. But it's important to treat them with care. Always use a cutter that's specifically designed for glass.
Glass cutters with diamond blades have finer and softer diamonds, ensuring a smooth cut. Bar tile cutters are also good for scoring and cutting a large number of glass tiles quickly. Edges can be smoothed down using a rubbing stone and cloth.
Another great tool for glass cutting is a wet saw. The water flow prevents the blade and tiles from overheating, resulting in a clean cut. Tile nippers can be used to make small and exciting glass tile shapes and are a great addition to any tiling toolkit.
Manual or electric tile cutters?
With two main types of tile cutter available, it's important to think carefully about what type of cutter matches your project. You should also consider your budget and whether you plan to use the tile cutter regularly or not as this will help you decide how much to spend on this product.
Manual tile cutters
Manual tile cutters are likely to seem less daunting to first-time tilers. This is because they're significantly quieter than electric cutters and provide cleaner, easier working than electric models.
Manual tile cutters tend to be affordable and can be easily moved from room to room. As a rule, tile cutters are great if you're tiling a small space and want a cutter that requires minimal clean-up and set-up. If you only want straight cuts, then this is the option for you.
Electric tile cutters
In contrast, electric models tend to be heavier and messier. They use a diamond blade and have a water pan to keep both the blade and tile as cool as possible. The addition of water also helps to keep dust to a minimum.
Electric tiles are needed to cut thick tile slabs as well as tiles made from tough materials like granite. They are also great for cutting tricky angles and small cuts that are not possible with a manual cutter. Use an electric cutter for heavy or delicate tiles.
Best manual tile cutters
As you might expect, there are many different manual tile cutters on the market. This can be confusing, but here's a rundown of some of the most affordable and easy-to-use options.
Marshalltown 17-Inch Tile Cutter
Highly versatile and great for a wide range of DIY tiling projects, the Marshalltown 17-inch Tile Cutter is suitable for use with ceramic, mosaic and porcelain tiles up to 12mm thick.
The two-rod rail system allows for a smooth, wobble-free cutting motion while the tungsten carbide scoring wheel allows for quick and accurate cutes. Enjoy precise cutting with the adjustable measuring guide. The Marshalltown 17-inch Tile Cutter is also great for cutting tiles up to 305mm x 305mm at a 45-degree angle.
Shop Marshalltown 17-Inch Tile Cutters
Marshalltown 24-Inch Tile Cutter
When it comes to resizing tiles, precision is key. And that's where the Marshalltown 24-inch Tile Cutter comes in handy. It's perfect for cutting ceramic, mosaic and porcelain tiles up to 24-inches long and 12mm thick and boasts a two-rod rail system which promotes smooth cutting.
The tungsten carbide scoring wheel allows for easy breaks while the adjustable measuring guide is ideal for precise cuts.
Shop Marshalltown 24-Inch Tile Cutters
DEX Tile Cutter 400
If you're looking for a reliable entry level manual cutter that will cut ceramic and porcelain tiles up to 400mm, then the DEX Tile Cutter 400 is ideal. It comes with a 22mm titanium scoring wheel and like much of the DEX range can be recycled at the end of its working life.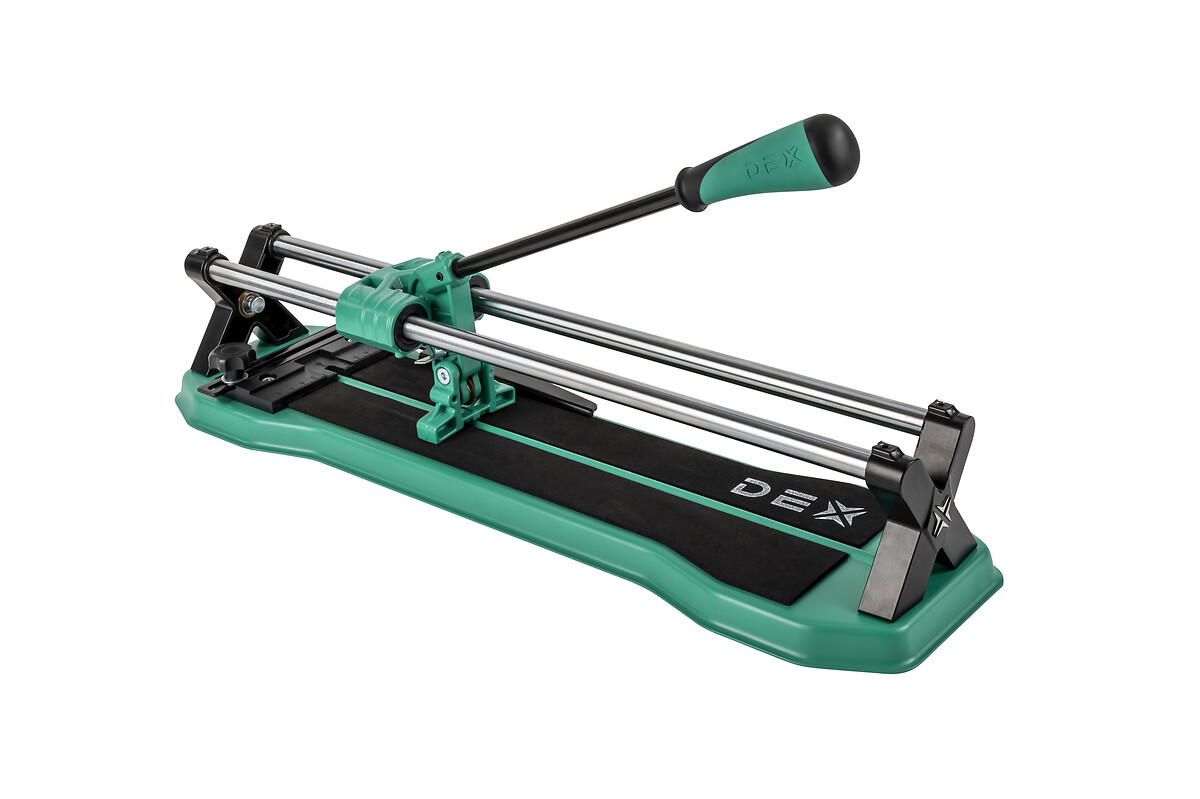 Marshalltown 36-Inch Tile Cutter
If you're working with larger tiles, then the Marshalltown 36-inch Tile Cutter is ideal. Cut ceramic, porcelain and mosaic tiles up to 36 inches long and 14mm thick.
The Marshalltown 36-inch Tile Cutter also comes with high-quality bearings for smooth operation, has a 22mm tungsten carbide scoring wheel and boasts a rigid I-beam construction for accurate cuts.
Shop Marshalltown 36-Inch Tile Cutters
Best electric tile cutters
Sometimes, only electric will do, particularly if you're cutting large, thick tiles made from tough or delicate materials or are looking to create beautifully intricate shapes rather than straight lines. Here are some of the best electric tile cutters on the market today.
Vitrex Versatile Power Pro 650W Wet Saw 230V
If you want to achieve super clean cuts on thick, durable tiles, then don't miss the affordable and simple-to-use Vitrex Versatile Power Pro 650W Wet Saw 230V. This comes with a 180mm diamond blade that's capable of cutting tiles up to 40mm thick.
The continuous rim allows for extra clean cuts. There are also tilts for 22.5 and 45-degree mitre cuts and an advanced water recirculation system as well as a double extension table for larger format tiles.
Shop Vitrex Versatile Power Pro 650W Wet Saw 230V
Vitrex 450w Torque Master Power Wet Saw
A tile-cutting powerhouse, the Vitrex 450w Torque Master Power Wet Saw is a must-have DIY companion, ready to meet all your tiling requirements. With a Hi-Torque geared motor for impressive cutting and a splash guard with variable height adjustment, you'll get the job done professionally and safely.
The Vitrex 450w Torque Master Power Wet Saw comes with a diamond blade with a continuous rim for an extra clean cut and a full adjustable mitre guide with a unique ratchet mechanism. Use the double extension tables for cutting larger tiles.
Shop Vitrex 450w Torque Master Power Wet Saw
Vitrex Versatile Power Pro 750w Wet Saw 230V
If you're looking for a cost-effective electric tile cutter that's capable of cutting large format tiles, then this is the right option for you. With an extra-large aluminium cutting table which tilts for 14-degree, 30-degree and 45-degree mitres, you can enjoy hassle-free tile cutting to suit your project.
The constant cutting speed also allows for ultra-smooth cuts while the automatic overload protection prevents overheating.
Shop Vitrex Versatile Power Pro 750w Wet Saw 230V
Watch our video
Tile Warehouse has teamed up with YouTuber Proper DIY to show you the best way to cut your tiles before fitting them in your home. Make sure to watch our video. It's packed full of really useful tips and advice for cutting tiles for both floors and walls.
Need more information?
If you have any questions regarding tile cutters or anything else to do with tiling in the home, then feel free to contact our Customer Services team using our web chat facility. They will be more than happy to help.