What's the best trowel for tiling?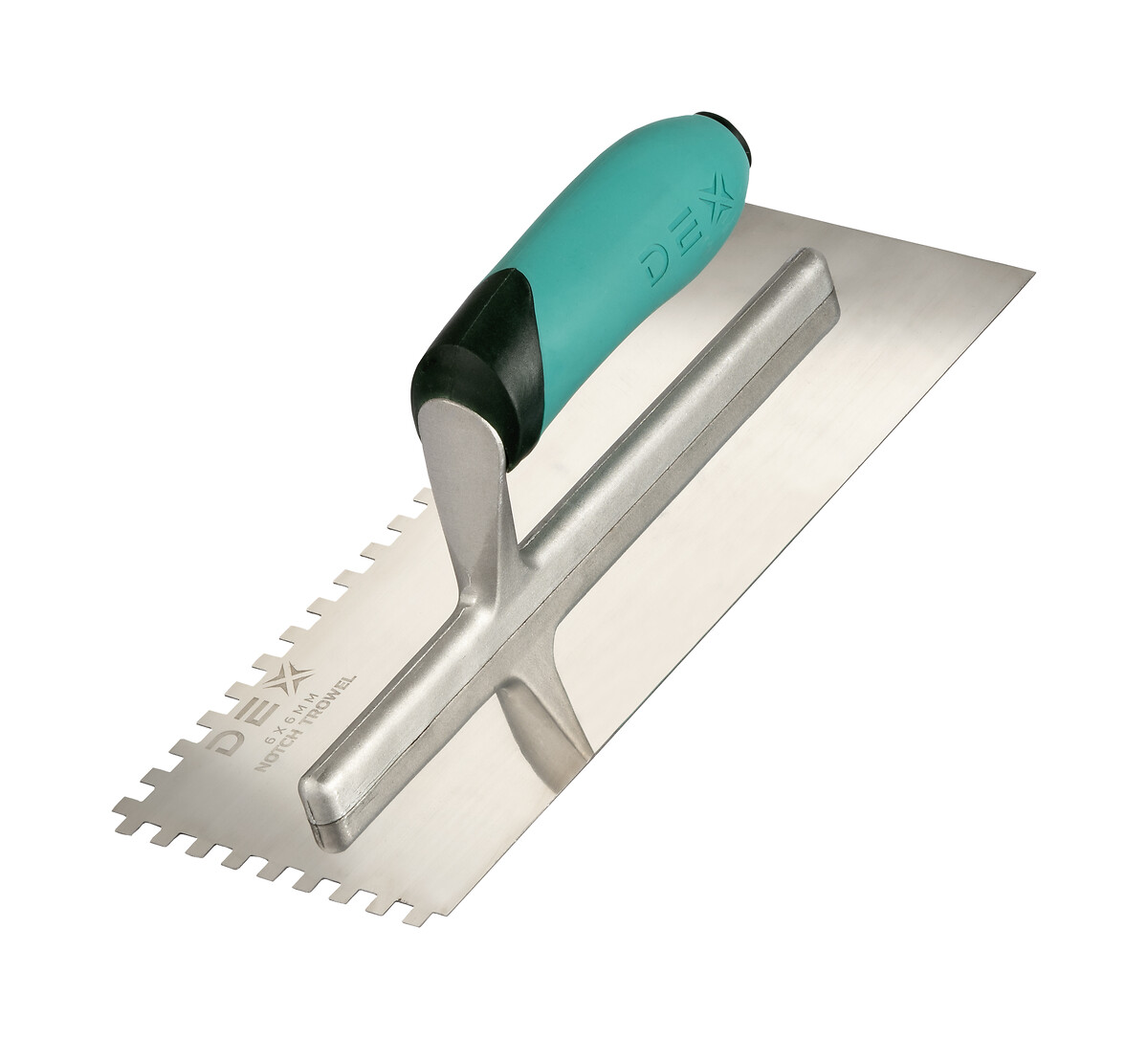 One of the most essential and yet most often overlooked tools for tiling is the trowel.
Sadly, there is not a standard trowel for tile installation since the type of trowel you use depends on the size as well as type of tile you are planning to use on your floors or walls.
So, if you are planning on tiling at home, we'd highly recommend you keep on reading to ensure you invest in the right trowel(s) for your forthcoming tiling project.
What is a tile trowel?
The job of a tile trowel is to spread the tile adhesive onto your substrate (floor, wall etc) and at the same time control the amount of tile adhesive you are applying.
Tile trowels consist of a handle and a flat metal plate (generally stainless steel) that is designed to scoop up and spread your tile adhesive evenly to guarantee a smooth, flat finish every time.
A trowel is more than just for spreading adhesive. Multi-faceted, it also helps to create a level surface onto which to install your tiles, and this is where choosing the right trowel for the right tile can make all the difference.
What are the different sizes of tile trowels?
A tile trowel comes with notches which vary depending on the tile you are planning to use. The notches (or teeth) dictate how much adhesive is sandwiched between the surface and the line. Generally, the bigger the notch, the bigger the tile.
What's more, the notches not only help to apply the adhesive in even lines but also create spaces between the adhesive through which air can escape when you press your tile down into your bed of adhesive.
4 x 4mm Notched Trowel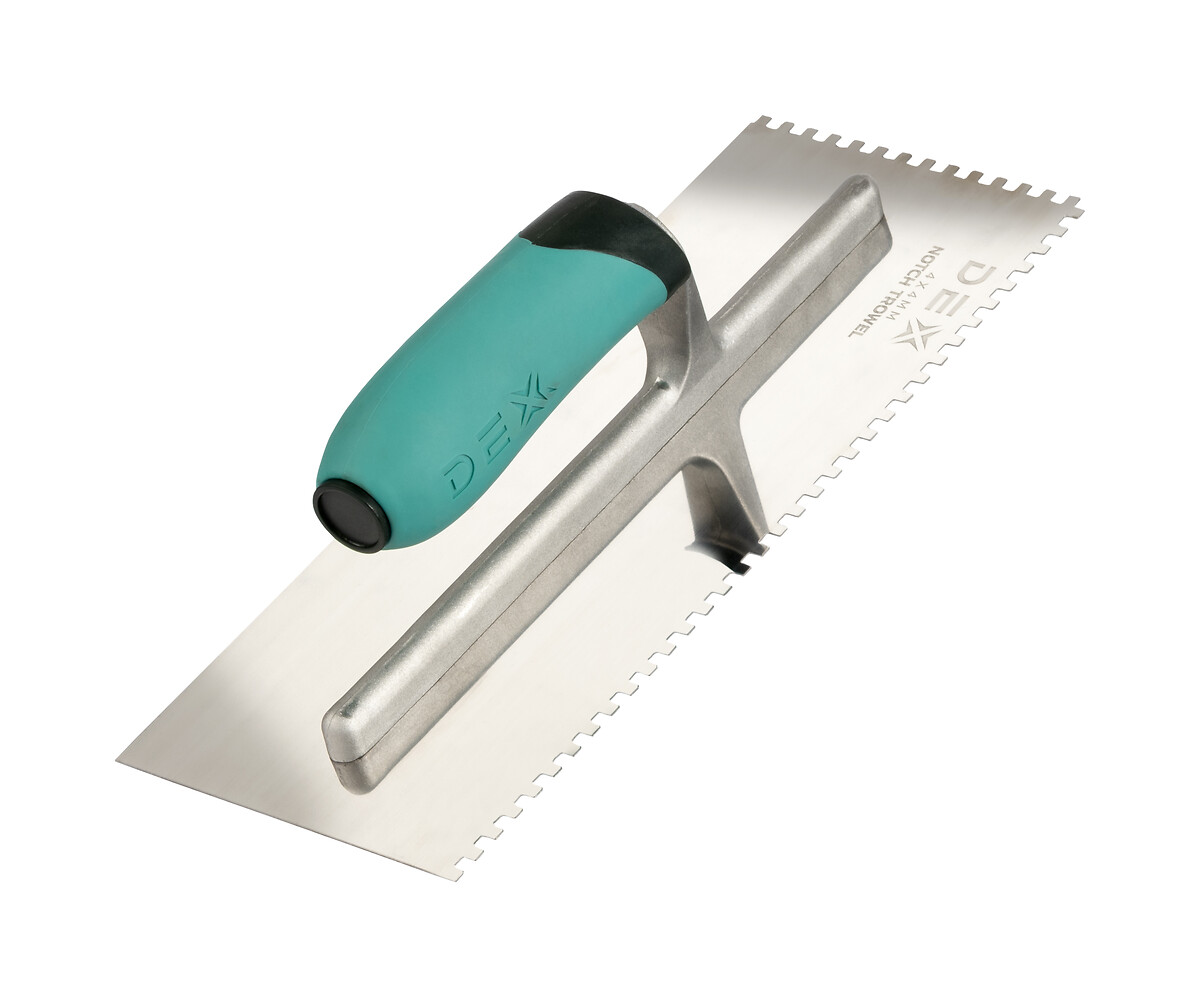 If you are planning on fitting mosaics, then the 4x4mm square notched trowel is ideal as it will leave the least amount of adhesive onto the surface which you are tiling.
Shop DEX 4x4mm Notched Trowels
6 x 6mm Notched Trowel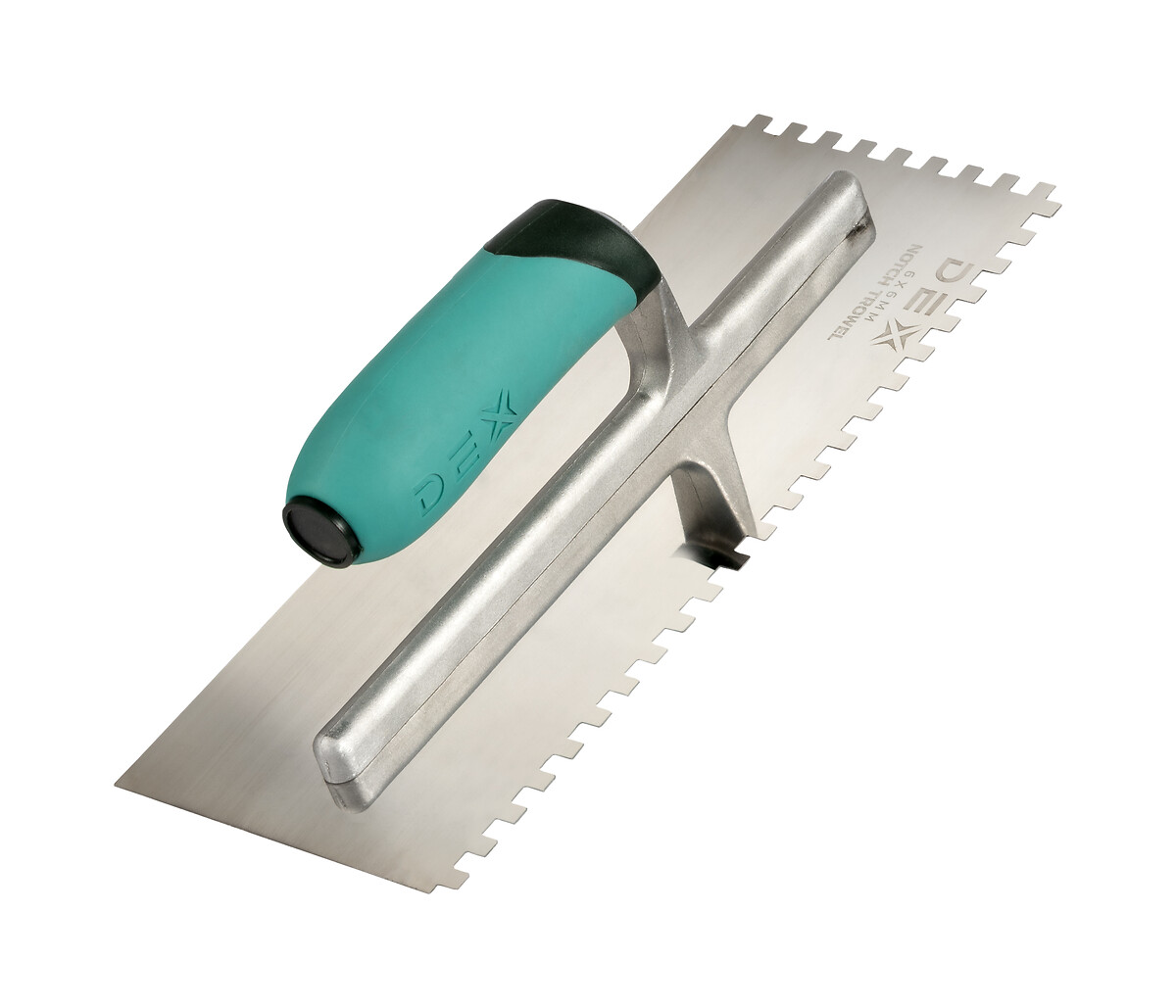 The 6 x 6mm square notched trowel is ideal for fitting wall tiles no larger than 20 x 20cm.
Shop DEX 6x6mm Notched Trowels
8 x 8mm Notched Trowel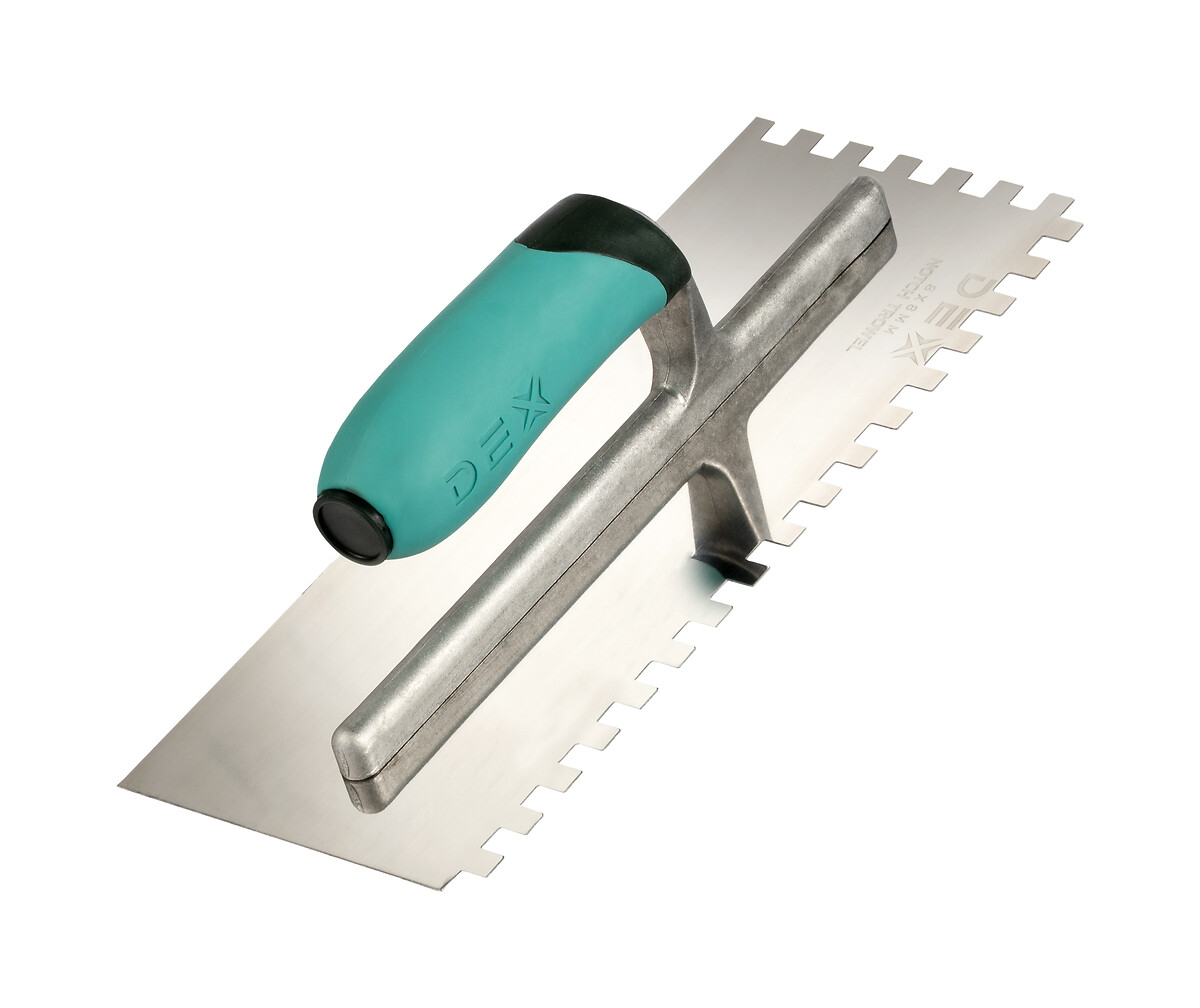 The 8 x 8mm square notched trowel is suitable for use with both wall and small to medium-sized floor tiles up to 20 x 20cm in size.
Shop DEX 8x8mm Notched Trowels
10 x 20mm Notched Trowel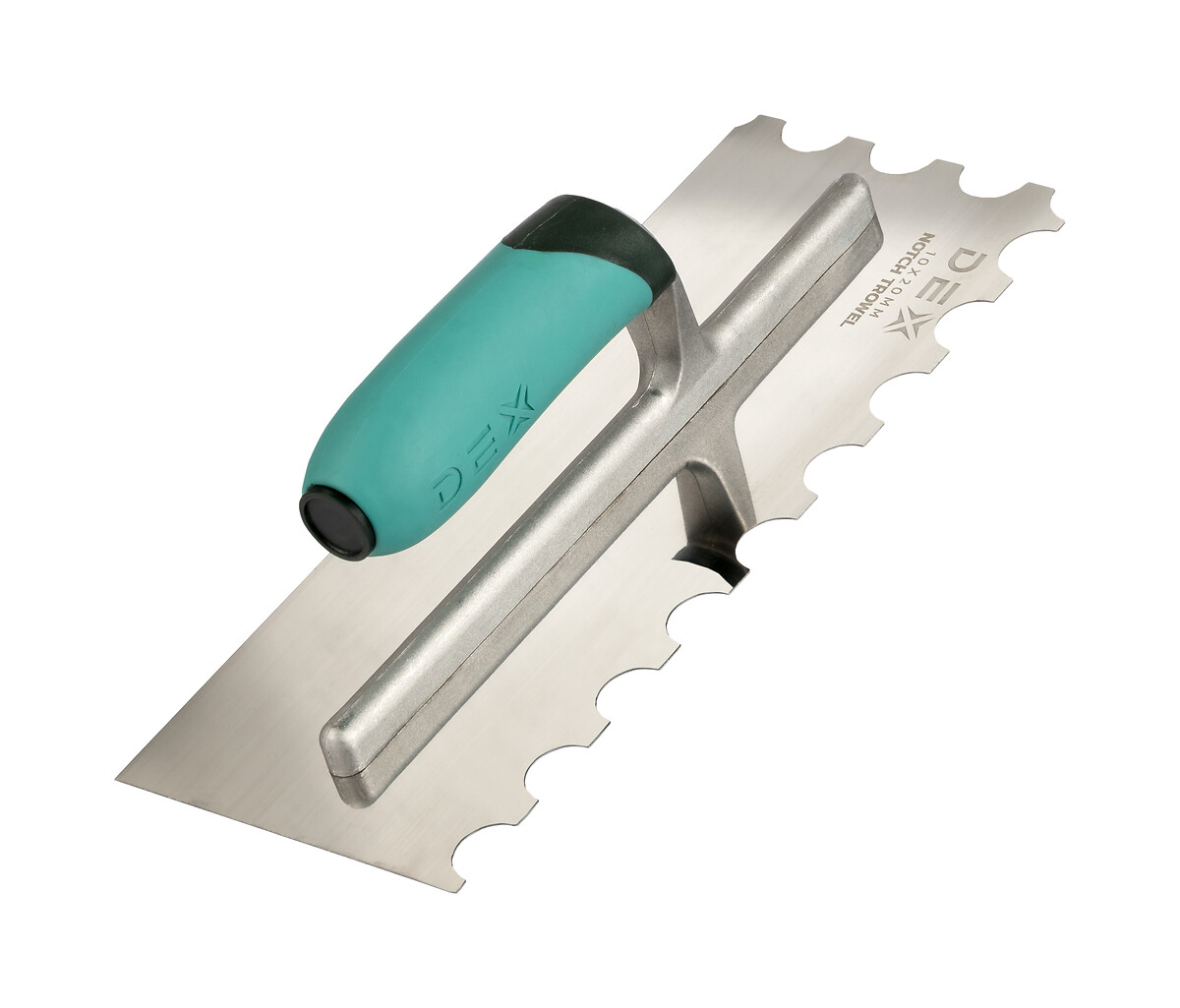 i
The 10 x 20mm square notched trowel is suitable for use with floor tiles up to 30 x 30cm in size.
Shop DEX 10x20mm Notched Trowels
10 x 20mm Round Notched Trowel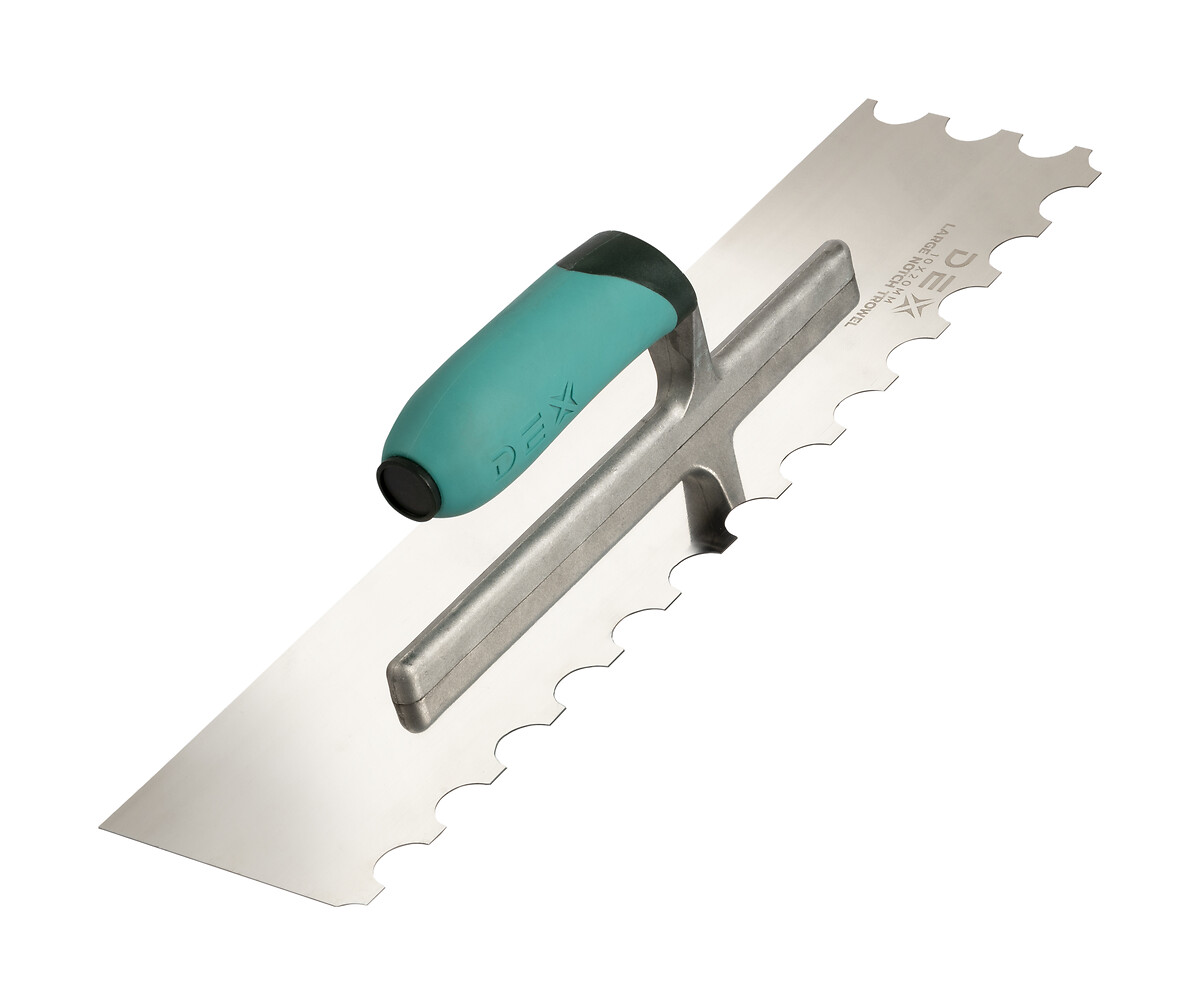 The 10 x 20mm Round Notched Trowel is suitable for use with large format indoor floor and wall tiles up to 40 x 40cm in size.
Shop DEX 10×20 Large Format Round Notched Trowels
How do you know if you're using the right tile trowel?
To make sure you are using the right trowel for your tiling project, apply your adhesive, lay your tile, and then lift the tile up to check whether the trowel lines have disappeared. If there are no visible trowel line, then your tile trowel has provided the right level of coverage and you are good to go!
How much adhesive should you apply when tiling?
This varies depending on the type of tiling project, but the general rule is a minimum of 85% of total coverage of the tile for dry areas and a minimum of 95% of total coverage for wet areas such as showers and wet rooms.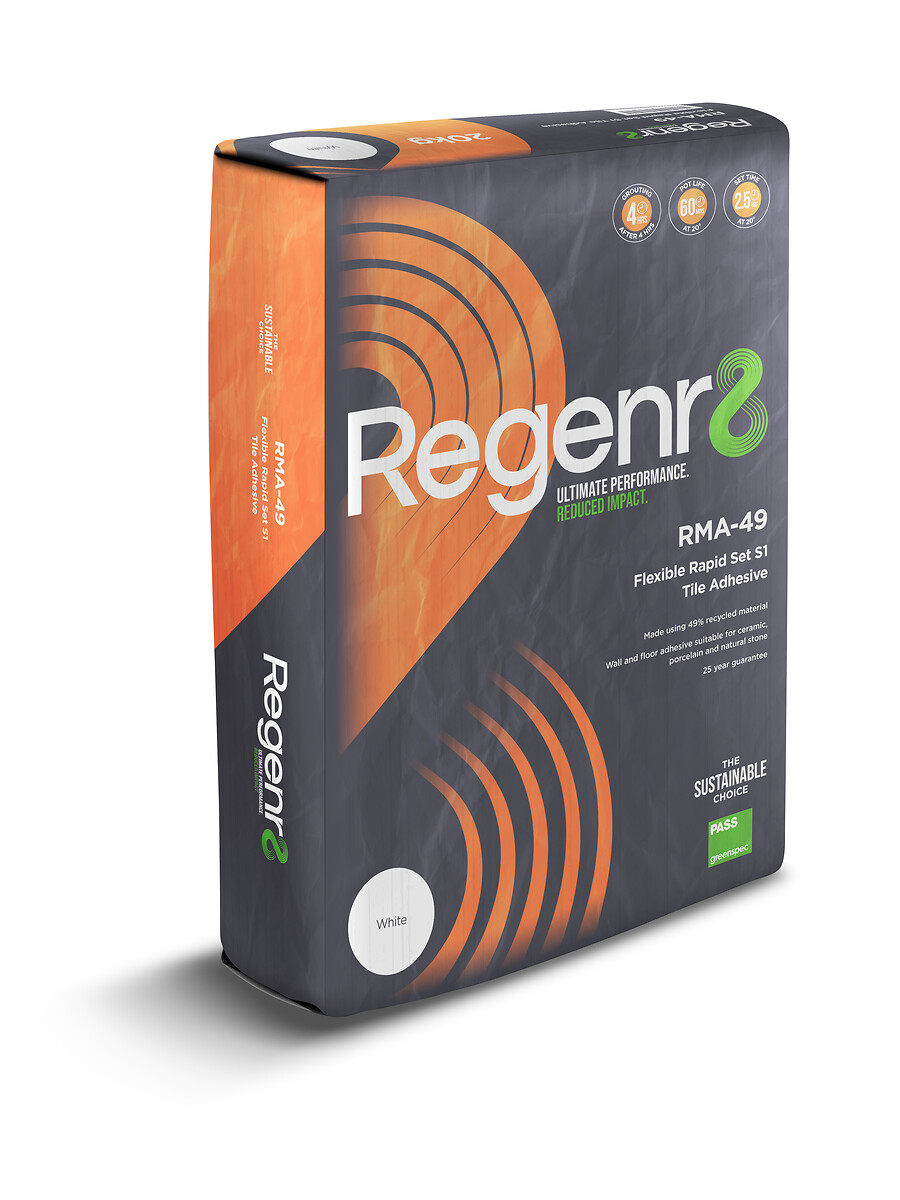 What are the other types of tile trowels?
Bucket Trowel
The bucket trowel is the ideal tool for transferring adhesive or grout from your bucket to your floor or wall with minimal fuss or mess. The flat bottom design of the bucket trowel allows you to scoop up exactly what you need for tiling.
Margin Trowel
A margin trowel is used to mix, scoop and spread adhesive into tight, awkward spaces when tiling. Its' narrow profile and 100 x 500mm blade is perfect for reaching those tricky areas with ease.
Pointed Finishing Trowel
The Pointed Finished Trowel is ideal for applying self-levelling compounds or screeds. Its large blade ensures and sleek and smooth surface ready for tiling once dry.
Tiger Trowel
If you are planning on fitting larger format tiles to floors or walls where the maximum adhesive coverage is vital, the Tiger Trowel is perfect. It provides better adhesives coverage than your standard notched trowel.
Need more information?
If you have any questions regarding tiles or tiling tools and accessories, then feel free to contact our Customer Services team using our web chat facility.