How to tile onto plasterboard
Expert advice for DIY tilers
Plasterboard is found in many modern houses and is commonly used to line existing walls and ceilings or to build partitions. If you have it in your home, you might be wondering if you can tile onto plasterboard to create a beautiful design.
The good news is yes, you can tile onto plasterboard.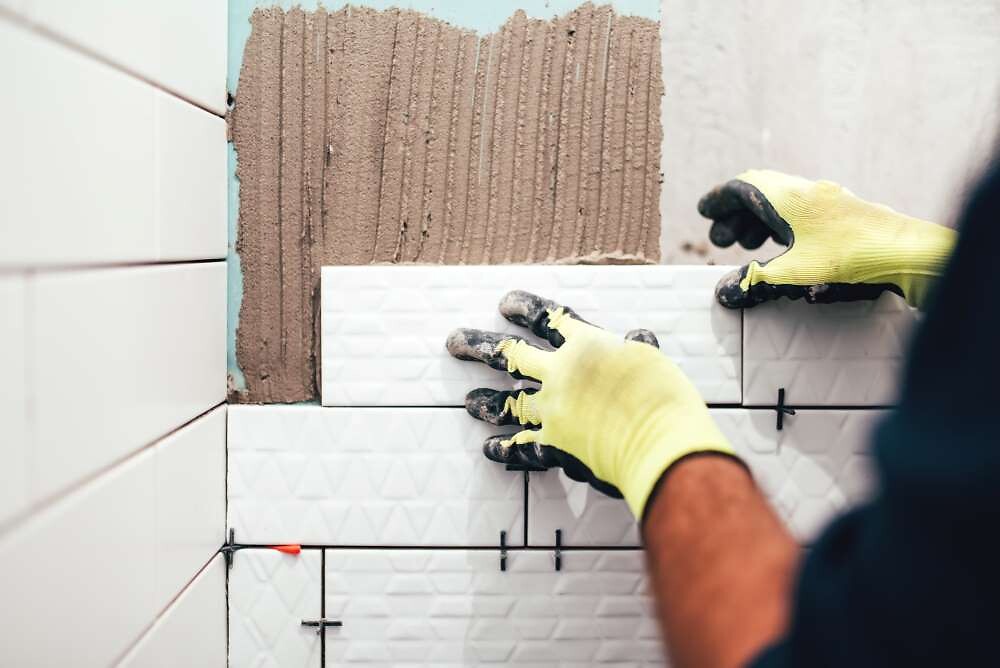 But it's important to follow specific guidelines to ensure your DIY work stands the test of time. Keep reading for DIY plasterboard tiling tips. Remember to always call in a professional if you're not confident in doing it yourself. Good luck!
Tiling onto plasterboard prep
As with any DIY project, preparation is essential when it comes to tiling plasterboard. From examining the condition of the plasterboard itself and removing emulsion paint when needed to applying a primer before tiling, there are many things to consider. So, keep the following plasterboard preparation tips in mind to ensure everything runs smoothly.
Preparing your plasterboard for tiling
You wouldn't paint onto a surface that was bumpy, dirty, tired, worn or rickety, so think of your plasterboard as a blank canvas and apply the same logic.
The plasterboard you're tiling onto should be dry, securely fixed and undamaged with no unsightly nails sticking out anywhere. Your plasterboard should also be a minimum of 12.5mm thick when fixed to timber framing or battening. It must be fixed in accordance with the manufacturer's recommendations.
In short, if you're worried about the strength or fitting of a plasterboard wall, don't tile it until you've prepared your surface accordingly.
Tiling onto painted plasterboard
Top tip: Don't try to take the easy route by tiling over painted plasterboard as this could end in disaster. According to advice set out by British Standards, painted surfaces are not suitable for tiling. This is because emulsion paint is water-based and therefore will hinder the adhesion process when laying out your tiles. With this in mind, always remove paint and emulsion before tiling or your tiles are likely to fall off sooner rather than later. A wallpaper stripper can be used to successfully remove old paint.
Priming plaster for tiling
Before you can start the tiling process, a few more steps are needed. Firstly, it's important to seal all board joints and internal corners with joint tape. This minimises gaps allowing for more effective adhesion and also reinforces the plasterboard.
Once that's done, apply an acrylic-based primer to the plasterboard with a brush or roller and leave it to dry before applying your powdered adhesive. If you're using a ready-mixed adhesive, priming may not be required, but always check the instructions of your adhesive to be sure.
A note of warning: never use PVA glue to prime a surface. Like wallpaper paste, PVA glue largely sits on top of the substrate and doesn't properly soak in. When you apply the adhesive, PVA becomes wet and sticky once again, preventing the adhesive from penetrating the substrate and providing a mechanical grip.
This means that you'll be relying solely on a thin layer of PVA to hold in place your tiles, grout and adhesive which is far from reliable. Always use a proper primer for the best results.
Plasterboard tile weight limits
As you probably already know, plasterboard is not as strong as say a stone or brick wall and therefore careful consideration must be given to tile weight limits.
As a rule, the maximum weight of tiling per m2 on Gypsum Plaster is 20kg/m2 (with plaster skim) or 32kg/m2 on Gypsum Plasterboard direct (without plaster skim).
Many people allow for the weight of tiles but forget to allow for the weight of adhesive and grouts which should be around 2-4kg/m2. As a rule, ceramic tiles are typically light, practical and suitable for plasterboard walls. If you like a heavier tile and want to create the perfect finish without worrying too much about weight, then 12mm HardieBacker cement boards are a great alternative to regular plasterboard. These can take up to 200kg/m2, are water resistant and don't require priming.
Tiling onto plasterboard
Once you've prepared your plasterboard surface and picked out a suitable primer, tile, adhesive and grout, it's time to start tiling.
Tiling onto plasterboard is pretty much the same as normal tiling except you need an acrylic-based primer to get the job done properly.
If you need more detailed advice, then we would recommend reading our guide on How to Tile a Wall. Or alternatively check out the steps below on how to tile onto a plasterboard wall.
Before you start tiling onto plasterboard
Before you start, remember you need to use an acrylic-based primer for plasterboards. This is one of the most important points when tiling plasterboard.
Once you are ready, gather all of your equipment and make sure you've done your weight calculations. Below is a step-by-step guide to get you started:
Step 1
Inspect the plasterboard, making sure it's clean, dry and damage-free. If any nails of fixtures are sticking out, make sure they're knocked back into place.
Step 2
Remove any paint and emulsion using a wallpaper stripper. If you don't do this stage, the adhesive won't be able to work its magic properly.
Step 3
Seal up any edges and board joints with joint tape for reinforcement.
Step 4
Choose tiles that are suitable for your plasterboard using the weight guide above. Remember, ceramic tiles like Rustic White, for instance, pictured below are a great choice for plasterboard.
Step 5
When you're ready to tile, apply an acrylic-based primer with a brush or roller and leave to dry before applying any powdered adhesives.
Step 6
Lay your chosen tiles onto the plasterboard and let the fun begin. Don't forget to unleash your creative side and experiment with many wonderful patterns including Herringbone.
Tank your plasterboard
Any plasterboard that's to be used in a wet area such as a bathroom or shower should be appropriately tanked according to British Standards. This involves creating a completely waterproof barrier to preserve the plasterboard and should be done even if the substrate is labelled 'waterproof.'
Need more information?
If you have any questions regarding selecting the right tiles for your home, then feel free to contact our Customer Services team using our web chat facility.
Recommended reads
If you would like to know more about tiles, then why not check out these related advice articles: